One more thing about Moskva
So in yesterday's post I told you about lots of things but I didn't finish. Allow me, dear friends, to continue. I then had to meet with Katya, my second CouchSurfing host. After a pluvious afternoon visiting the museums and strolling around the Russian capital under the gray sky, I met with her in a metro station. Moscow metro is a required step to understand the city. If you think the traffic is crazy on the surface, you haven't seen the underground. Or, I should say the farunderground, because it's really far underground. Like, well I don't know if you've ever been to Paris, it's a bit like the Abbesses station. Except it's like that in all the stations. Really deep. A bit like if it had been built by a political regime at war and fearing air raids and an atomic attack.
Oh wait, it's the case.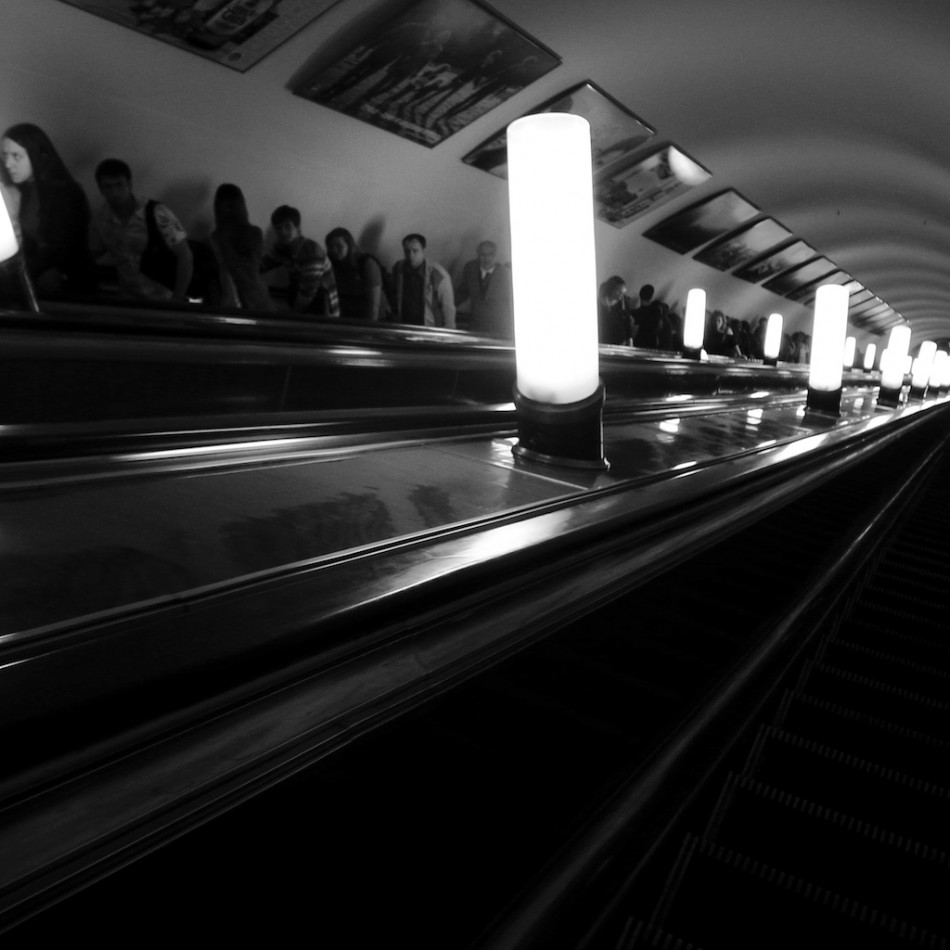 There's three more things to know about the moscovite metro. It's decorated, in a very communistic style (it could have been guessed), it's very frequented (lots and lots of people bump into you when you stop to look for the "Bykhod v ulitze" sign to know which is the right street), and at the deep end of the mechanic stairs there's a babushka with an uniform, and you don't know wether she sleeps or not, and her job is to yell at you if you don't behave on the escalator. There's nothing worst than public shame to dissuade people from acting wrongly, I suppose.
So, yeah, Katya, my second CS host, with whom it was so great that she proposed me to keep her keys. Well, no, the story's a bit more complicated. There were some keys I had to try to drop in her mailbox, see, her appartment keys, except that her mailbox was strangely so she had to come on the train station before I left so I could give back her keys but it was just after work so she wasn't sure she could come in time so I would have to keep her keys maybe. People in Moscow are great, I told you before.
By the way, did I tell you how I could get a SIM card to call people in Russia? No? Because it happened on the day after I arrived. I was looking for a way to contact Ali, but there was some problem with my french phone so I was at a park that had been named Tschastyie Prudy for a bad reason, (it wasn't really clean when it was named "the clean pond", because the butchers of the city threw thir garbage in it. And a prince cleaned it and the irony was lost), then I saw someone reading a french book. So I go talk to him and he's named Alexandre, from Franche Comté (a province in the east of France) and he's a french teacher in Moscow. He explains me the mysteries of russian telephone (the mystery is : it's very easy and cheap to get a SIM card). And I gave him some tips about digital cameras. And then we got to a small japanese tea house, to see his friend Masha, who he learned french to. And she speaks a really good french, whatever she says.
Then Alexandre went to buy his camera, leaving me with Masha. A friend of her came by and we went to the shop to buy a SIM card (and it was as advertised : very easy and cheap). Then, it didn't work on my french phone, so Masha proposed to lend me her old phone. She only knew me for about an hour. If that's what all moscovites are like, moscovites are great people.
After this conclusion, I can come back to my main narrative. I was telling you about Katya. Russian people are great. So much that I wondered why I planned to stay only ten days in Russia (with 5 of these days sharing a compartiment with a polish Santa Claus, but shhh, that's a spoiler from one of my next posts)
So yeah, I see you coming with your remarks, like, you know, "Joachim you're not here to speak about the girls that are nice we want you to talk about us parisian/italian girls, we're nicer". Or, like "Joachim, please send me some nice russian/korean/latin girl!". Yeah, you can read both these remarks on my first post on Day 0. Yes, there are other cute girls on the other side of the world, and No I won't send you any. Postage would be too expensive!
So we went to see exhibitions with Katya, one about strangers in Moscow, and their experiences… lots of different looks about one crazy city, with nice enough pictures… and the comments of a moscovite friend are great to understand more about the city! And then we went to see the Maiakovsky museum, one of Katya's favorite museums. V.V. Maiakovsky was a writer, artist and poet from the 20's, he was for the revolution, and commited suicide in the 30's because of that. The museum is an art installation about the life of an artist. It's an awesome place… and I took some pictures of it.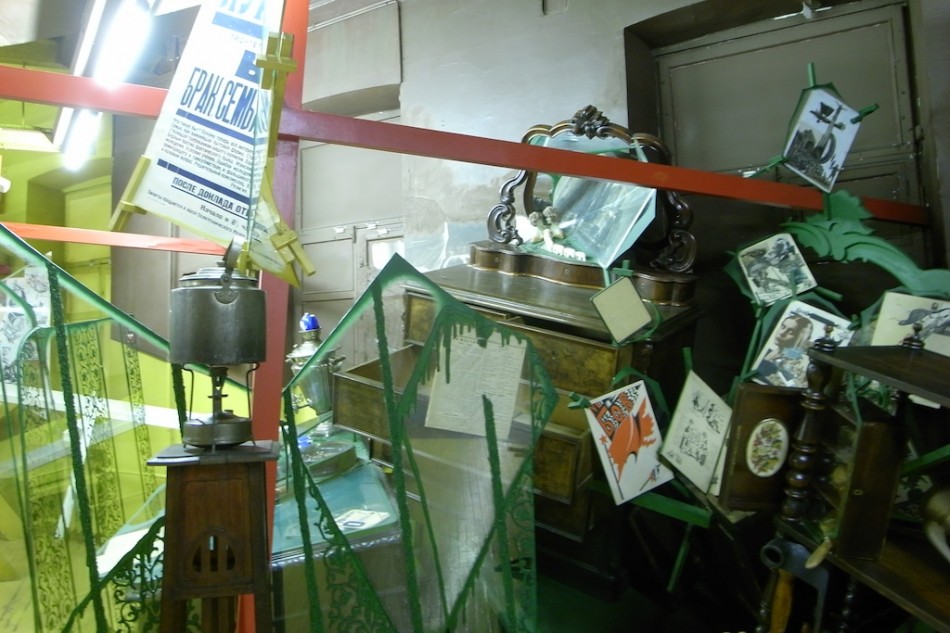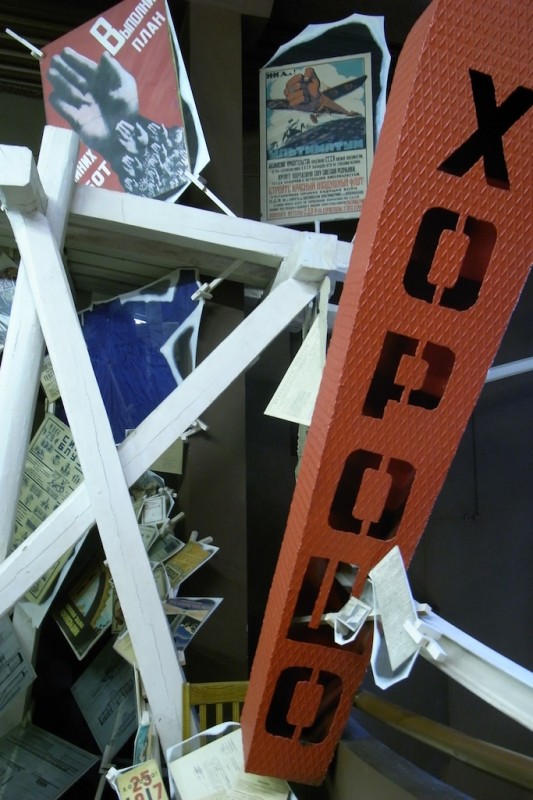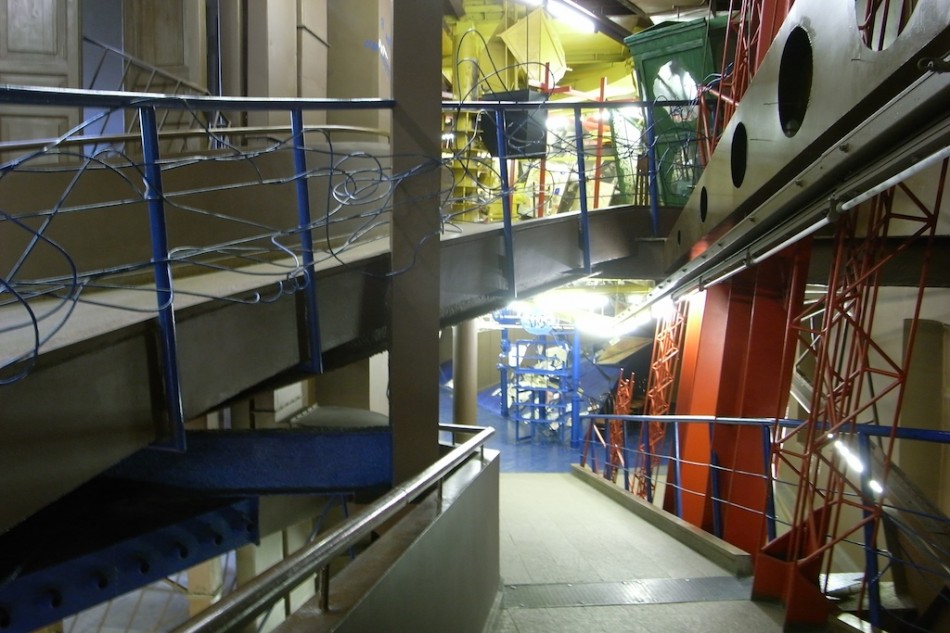 And in the end how did it work out for the keys? I went to Iaroslavskaia train station and dropped my bags in the train. I waited a bit and then… Ali! And Masha! (his friend from the first night, remember?), not knowing my train wagon they were searching for me and we could say good-bye and everything and then he told me he could take the keys and give them back to Katya, but… two minutes before the train departure… Katya came just in time, and I gave her keys back. We all said goodbye to each other, and then I embarked on the train. To travel in the steppes and the mountains, from one continent to another… the transsiberian.
Last pic with Ali and Masha!