Moscow, crazy city
Moscow is a strange city. I would say I'd need more time to get to know it well, and I can't retell 5 days of crazy wanderings with great people in this city in a blog post. That's why I made two. One for now, the other for later… just because I don't want to spoil your weekend.
Moscow. I have to say I studied russian for 5 years in high school, so I can read cyrillic alphabet, ask for bread at a bakery, ask for the right way (even if I still mix up between right and left) and tell that my sister drank too much gasoline. I mean, come on it's the basics. And then you have to know that 700rubles are roughly equal to 15€, about 100 francs. I'm just saying that for people who still count in francs. I gave up that habit, and only count in ancien francs now (all's about street cred).
The architecture in Moscow is strange. Well, strange for a french guy from Bordeaux or paris who's not used to seeing trees in his city. And green. And orthodox bulb churches, and and colored buildings, and bridges or universities with a hammer&sickle. In fact, not everybody rolls in a Lada. Communism isn't as visible as one might think… but capitalism is visible. I was shocked at all the brand names up on the roofs (Samsung, big insurances…), enormous advertisings covering buildings (generally to hide construction works) and big international brands like Starbucks, Société Générale or Mc Donald's.I wasn't really expecting that, and I guess I have to live with my time and everything. Or maybe Paris is spared from all the advertising things after all (ok ok, not talking about the parisian métro)…
What shocked me too was peoples haircuts. I mean, the 80's are dead, and the would-be comeback of that decade spared us from such monstrosities as the mullet. Except that in Moscow, my friends, the mullet is really big. Hence, the shock.
But then, it's only hair… but the people… well, I guess you could find them cold, but they hide well the fact that they are basically great people. Ok know only people from where I come from, like Bordeaux or Paris… but then, Moscovites were so great when I was there. Like, my first CouchSurfing host on this trip, Ali, who was great, really great. Ali isn't a very slavic name. His family's from Azerbaidjan. He's a teacher at a medical faculty and he's working at a hospital too. And he plays the trumpet in an orchestra. And he had time to host me, show me around, presented me to his friends with whom we spoke about russian cinema and litterature or things like that as we were drinking Vodka too, then we went to the the Masterskaya Kafe with other friends of him… it's like a secret hangout for theater actors and artists, near the Dietsky Mir (like a big kids store actually closed) and the Lubianka (like a big secret KGB prison painted in salmon pink or orange).
So, yeah, we went to a park with Ali and another of his numerous friends and then to the sparrow hills, the place where you can snow surf when there's snow in winter. Every city should have a snowboard slope and snow in winter. And there's also the Moscow University on this hills. Dominating the city. Huge.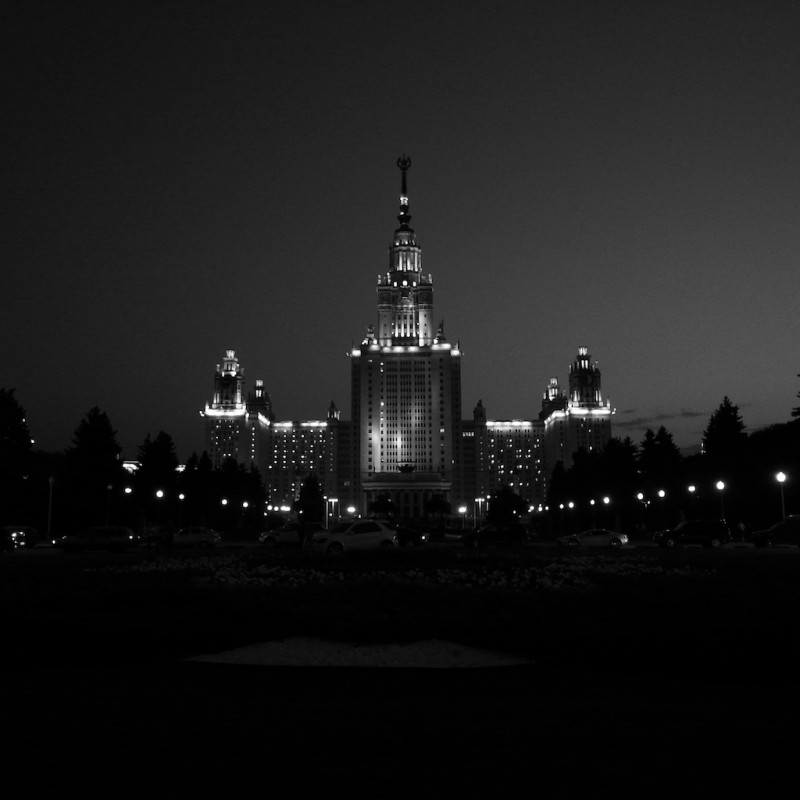 Stalin build it (with the help of german prisoners after WWII)
And then? Last week-end was Dien Goroda, the city's birthday… so we went to the salyut, the fireworks over the Kremlin. The fireworks were apazdaly (late) and nie mnoga (not a lot), but it's because of the crisis, they told me. Too bad.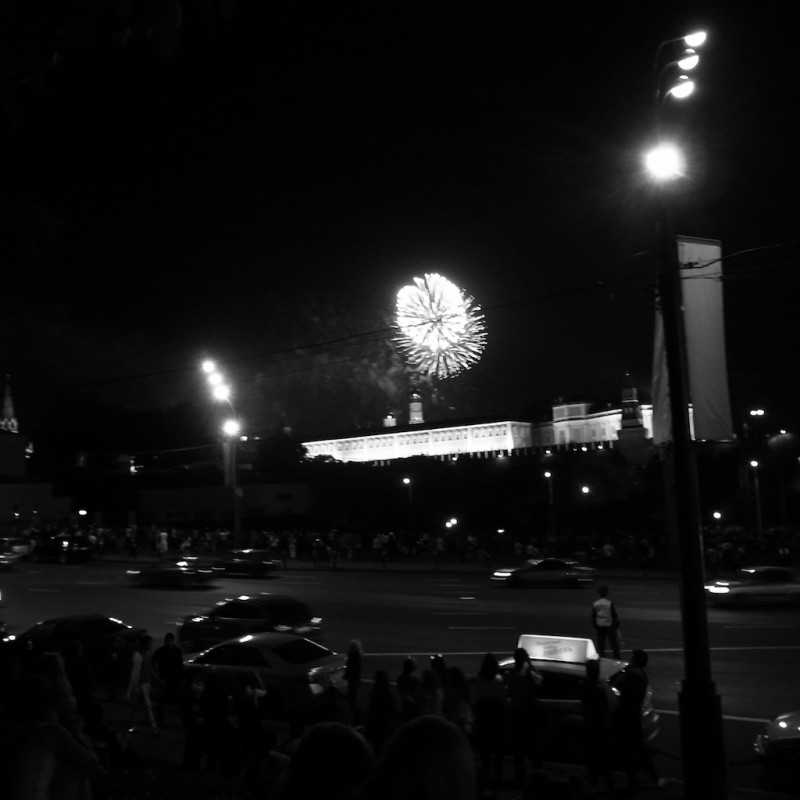 Then we went to another "secret" hangout, except that it's not that of a secret anymore. It's a nice place with like a mezzanine bed over regular bar tables. Strange but nice… And with some russian beer and russian people, it was instantly khorocho (very nice).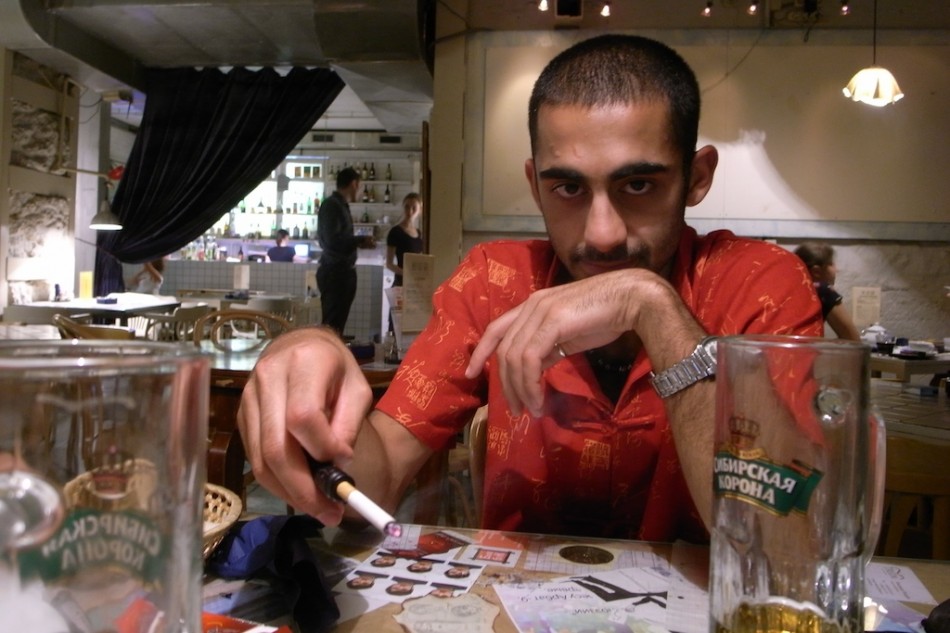 So Ali hosted me for two days, at his parents. I became a fan of his mama's cuisine, especially since we had caviar at breakfast… We had a great time, and I guess I couldn't have found a better way to start the day… and my trip!
Ok, enough for today. I'm going to go visit Ulaan-Baatar this afternoon…