Hanoi culinary secrets
Vietnamese culinary arts are known in the whold world. Pho, Bun, Spring Rolls, everything's great.
But yeah, there's more than classical cuisine. There's a secret vietnamese cuisine, one that's at the outskirts of the city, where westerners don't wander often. Locals don't speak about it and are a bit reserved about strangers going to eat those special treats. Dog meat, and snake meat surely are uncommon, and one can understand the unease. Me? I don't care about eating dog. In fact, I was looking for it, mainly because an ex-colleague and workplace superstar (he has a fanclub), Henri, financed a day of my trip to go find dog meat, and to eat it. He also asked that I find a perfect lookalike for him, but I haven't been successful in China and I'm having troubles in Vietnam too. But I'll find it. If you know someone looking like him, drop me a line.
So yeah, I met an italian guy on my first day in Hanoi and he told me he knew where to find dog meat (dog meat not dog food). So we went on foot with Daniele and Charles another french guy. You have to go to the north of the old town, and continue, and turn left at one point until you get in a square between two streets.
And you see this normal looking vietnamese restaurant.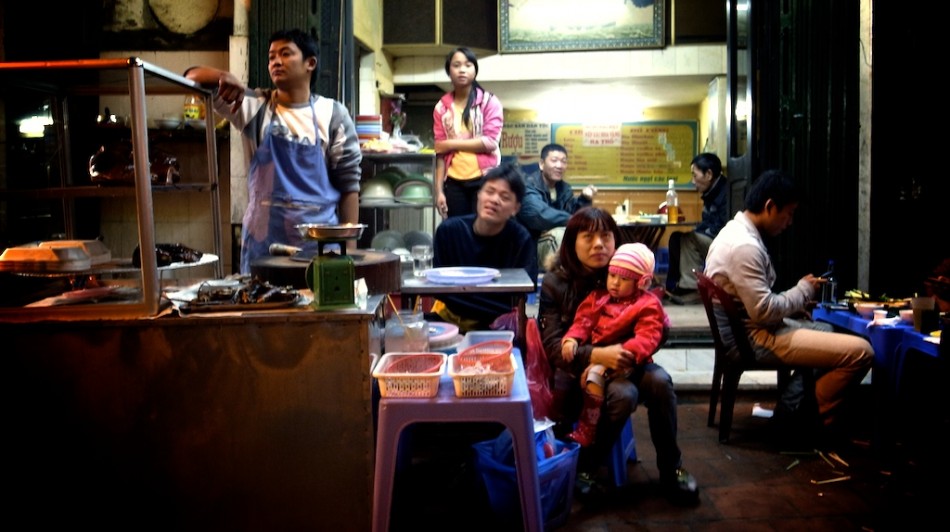 But instead of showing pork meat or chickens, you get to see other kinds of things…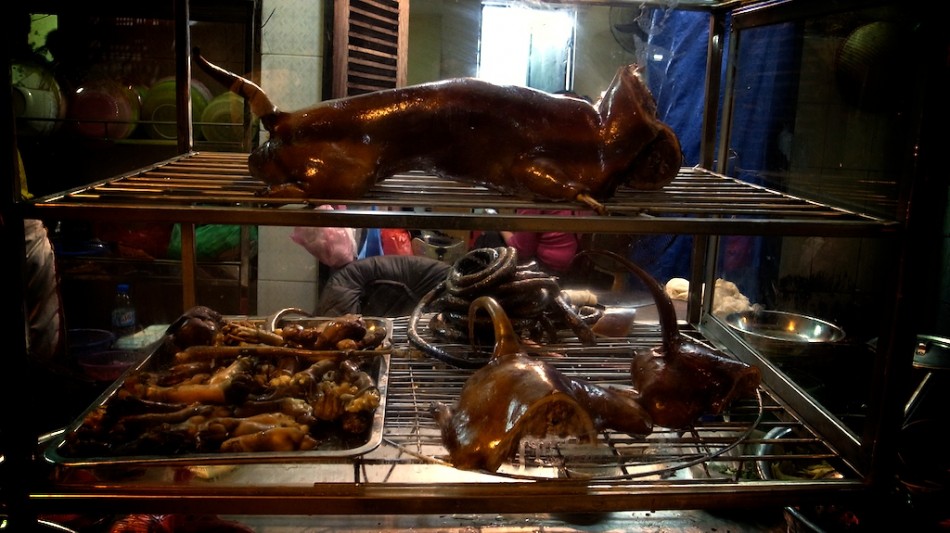 The restaurant owners are laughing. Strangers don't come often to this place. Three of us, it'll be 150 000 Dongs (between $7 and $10 US).
The first plate they bring is steamed dog (Thit Cho Hap) and pieces of dog sausage (Doi Cho).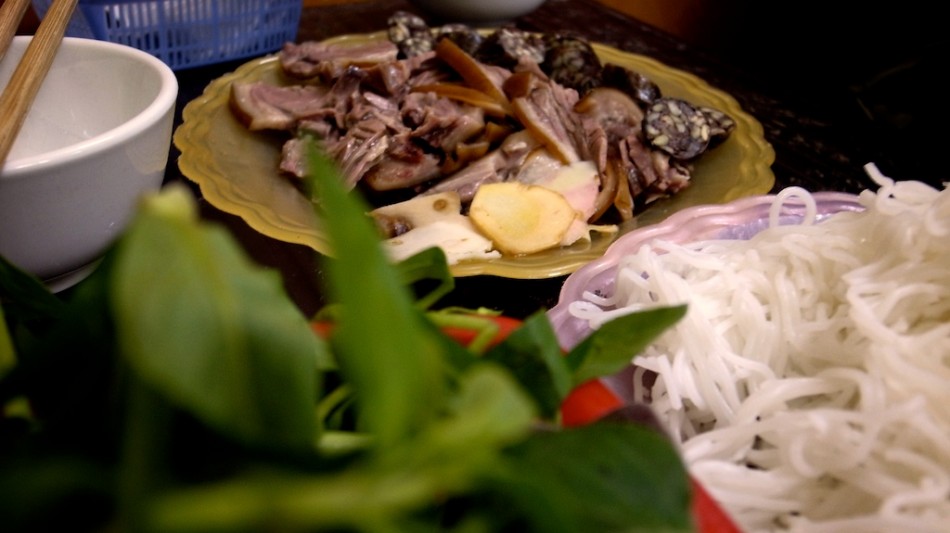 The other one, better in my opinion, is grilled meat with spices. And they call it Cho Xao Sa Ot. And yeah, what's the taste? I now say it tastes like veal, but more intelligent. It's similar to veal or beef, with a really fine flavour brought up by the spices. I loved it.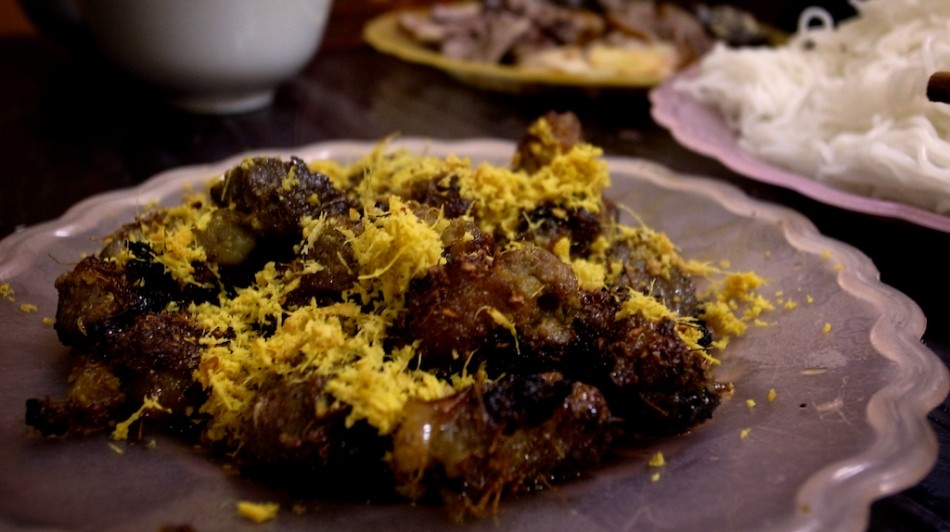 And what do they eat? Everything. You can see they cooked the paws and the head. Less visible from the outside, but still prepared to be eaten.
"woof!"
Mission Accomplished, Henri.
* * *
The next day, Charles and me went to eat snake. Getting to the restaurant was an adventure to itself. A city bus, the wrong stop in a desert part of town, bus again, the famous restaurant and $20 US a snake for two.
How do you eat it? Cut down to pieces.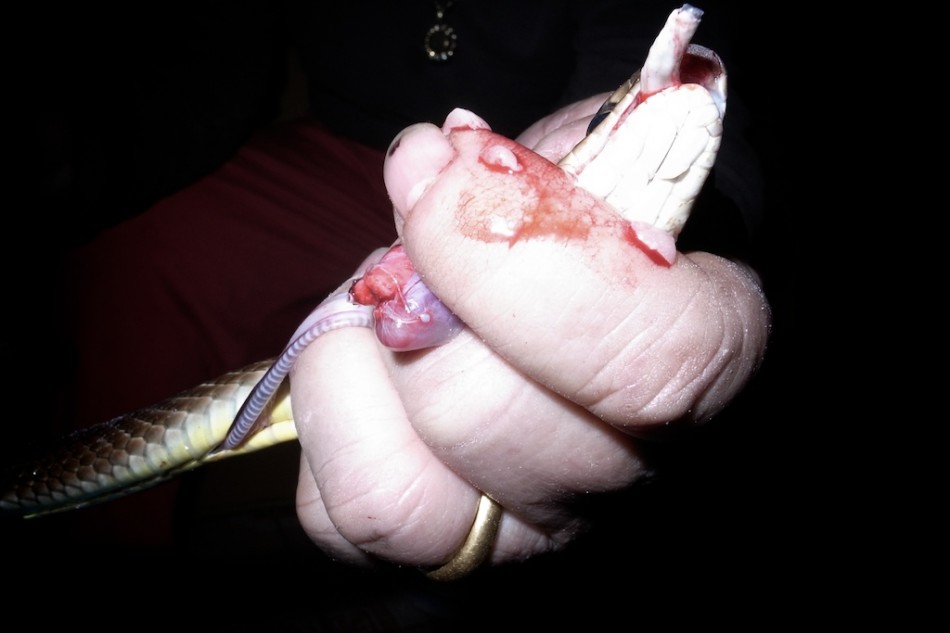 You start by cutting the heart out and getting the blood in a recipient. The heart is still beating for about 5 minutes. Even in my mouth it continued to beat. I decided not to chew it, so I swallowed it still beating. Yummy.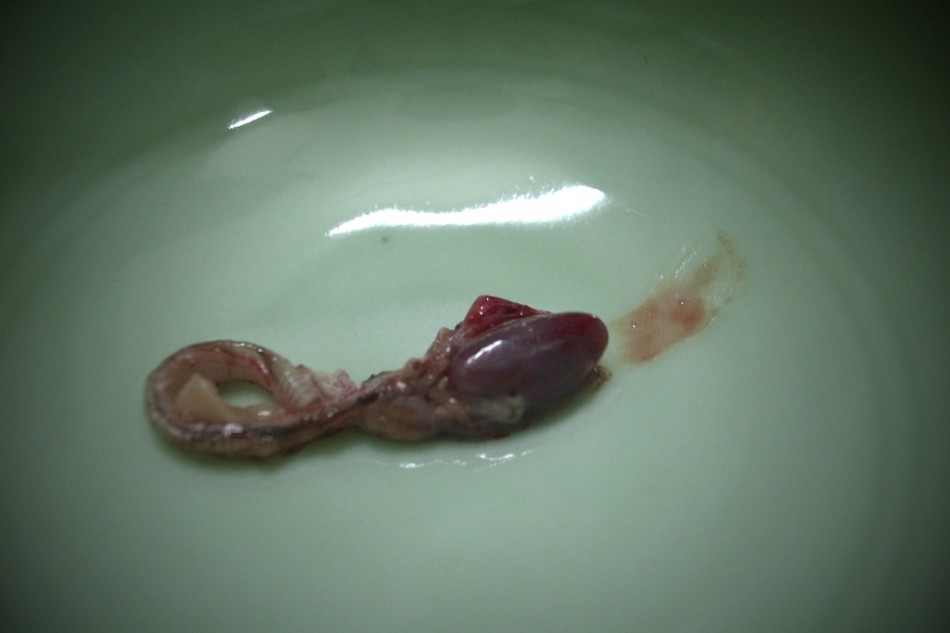 The blood is poured in a bottle with rice wine. Since the Kunming events, I'm a little uneasy with rice wine, but still, you don't really taste the blood in it.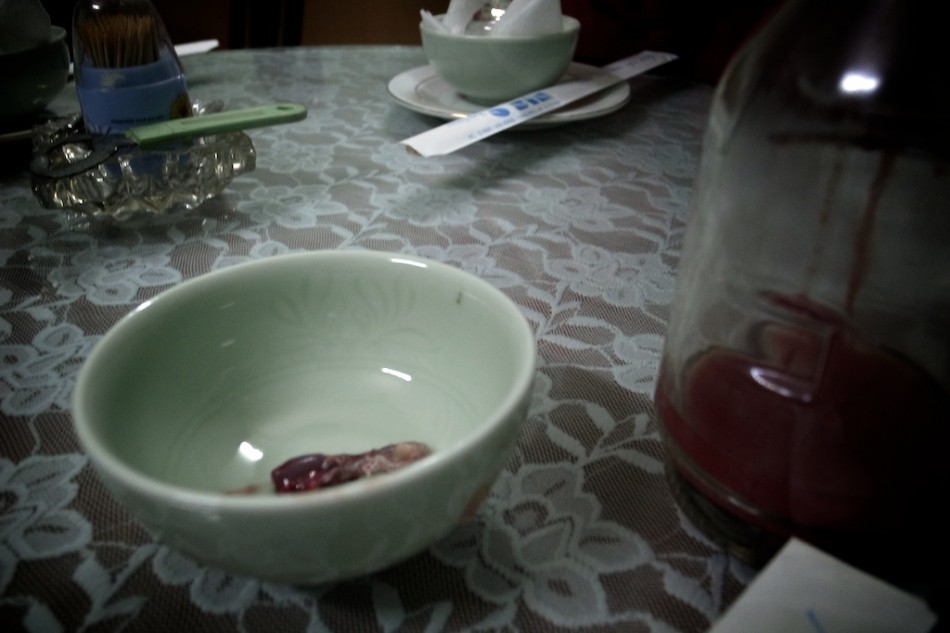 They start by bringing a sticky soup:
Then, grilled meat with onions and mini-corn: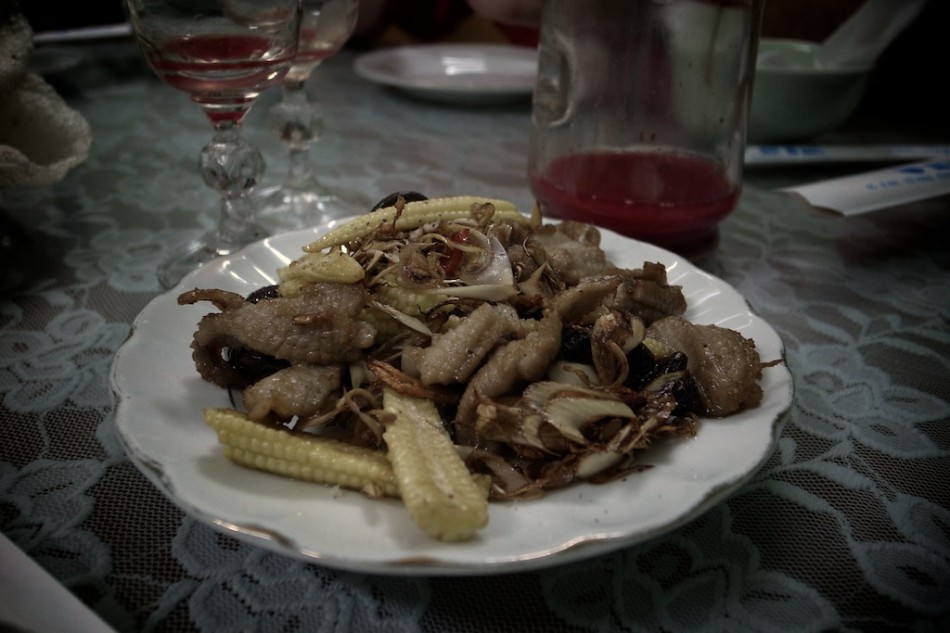 Then, it's a bit special : they grind the bones to a powder and fry it, and you eat it on a rice pancake thing: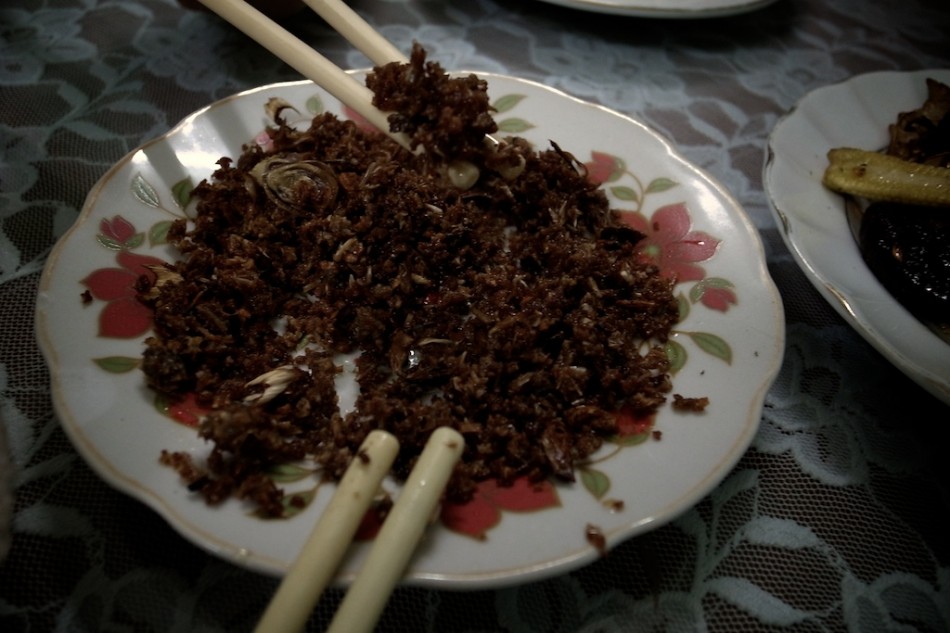 Then, snake spring rolls. Mmmh, nêm nom nom nom :)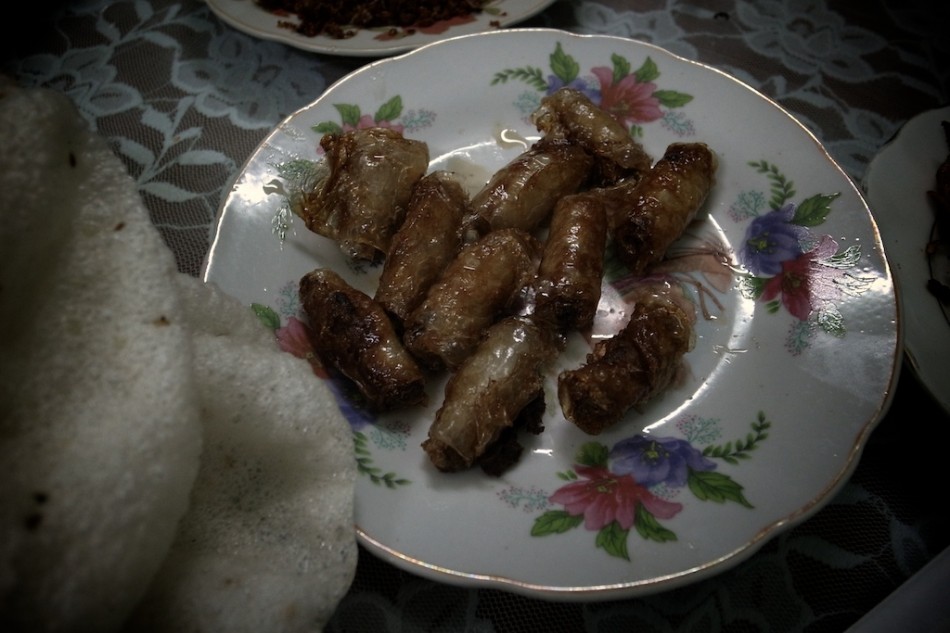 Fried snake skin. Crispy and not very tasty…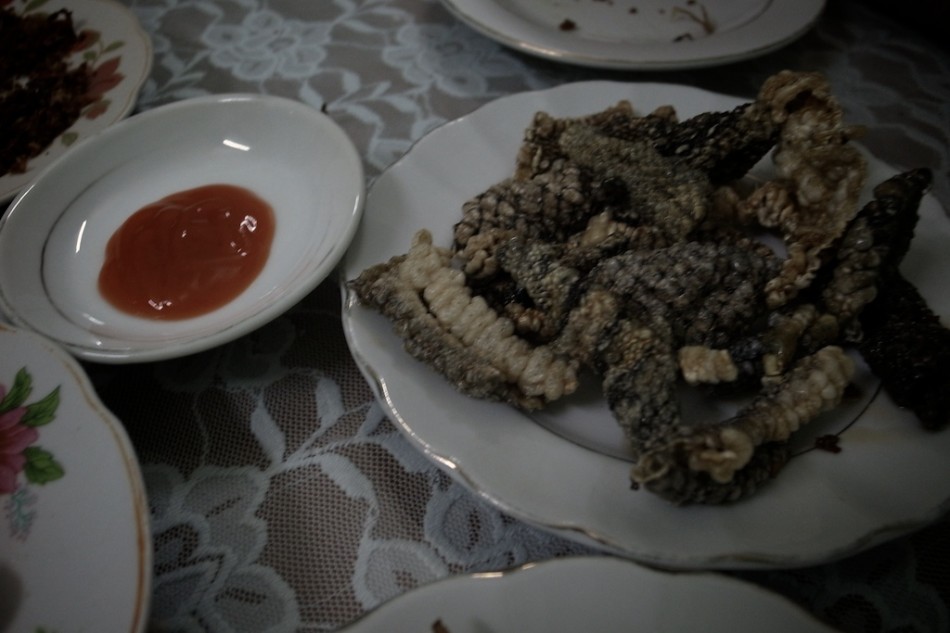 And in the end, meat balls and steamed or boiled rolls. I don't know exactly. Tasty.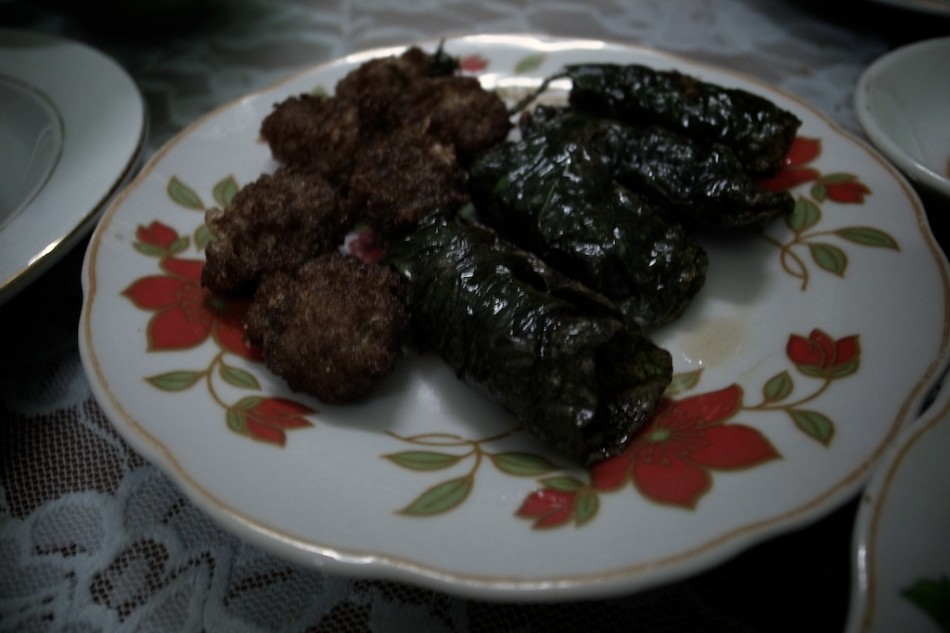 Bon appétit!
Snake meat is a bit elastic and you got to chew it a lot, a bit like squid. The taste is unlike any fish or meat I tasted. Really snake-like, though really tasty. I loved it.
Mission accomplished too!